T-shaped" learning
Students receive a wide breadth of knowledge across all subjects and depth in the subjects required for career readiness. The learning program is conceived as a "T" with strong in-depth focus in maths and science and broad knowledge is social sciences and languages. Using the best educational practices and innovative learning tools, we constantly aim to improve the experience for our students. We believe learning should not be a chore but an experience.
The school will run Viswabharati's proven highly successful foundation programs to build competency across core academic areas: Science and Maths. This will help train students for various future competitive tests by developing their problem solving ability and general aptitude.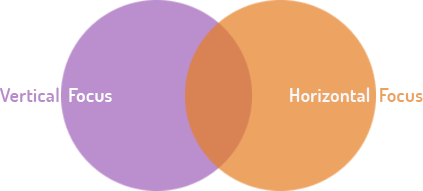 Horizontal learning will help in cultivating strong socio-linguistic skills. Through school programs and offerings, students delve deeper into language arts and develop communication and literary competence. Holistic development with strong logical and creative skills will be the target.